< | About the show > Showground Location >>
At Last Some Good News
Following two consecutive very bad years for the show due to heavy rainfall, plus the fact that we can no longer use the Braywick Showfield, we have some good news at last:
Firstly the Show will go ahead on August Bank Holiday, Monday 29th August as normal.
Secondly we have a new Showfield. The 2016 Show will be held at Bottle Meadow, Knowl Hill. This is on the opposite side of the A4 to the church and many will remember it as the site of the Knowl Hill Steam Rally.
The new showground means that there will be adjustments to the schedules of the regular events like the Horse Show and Dog show. The website will be updated as details become available so check back later if details are not available yet.
We hope to see all the usual faces on a gloriously sunny Bank Holiday Monday.
Jim Hadden
Chairman, Littlewick Green Show Society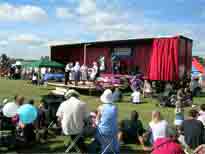 The Littlewick Green Show Society presents and promotes the annual Littlewick Show. Its purpose is to bring together, for one day, horticultural, farming, rural and other craft skills, amusements, sideshows, sales and promotional stalls. It gives opportunities to local charities to have fundraising stalls and/or information outlets. It provides general show events, exhibitions, competitions and entertainment open to the public for its participation or simple spectating or viewing.
The Society is non-profit making and any surplus income, after deduction of promotional and other expenses as provided for by its Aims and Rules, is distributed by way of donation and/or grant aid to charitable organisations in Maidenhead and District as may be decided upon by the Committee of Management at its discretion.
Admission to the show is:
£7 for Adults
£3 for Children under 16
£4 for OAPs
£18 for a Family Ticket for 2 Adults and up to 3 Children or £14 when purchased in advance from:-
PIKE SMITH & KEMP, Queen Street, Maidenhead
SANDS FURNISHING, Queen Street, Maidenhead
TIME MACHINE 32, Westborough Road, Maidenhead
HUNT'S HARDWARE & GARDEN SUPPLIES, Station Road, Marlow


For further information contact:
Miss V. Bosley at 18, Pinkneys Road, Maidenhead SL6 5DH
Tel: 01628 630622 - E-mail: valerie@vbosley.plus.com